Explore the World With LA Clippers
Official International Airlines Partner of the LA Clippers
STARLUX Airlines is set to launch its much-anticipated Taipei-Los Angeles route, providing travelers with seamless connections to other in-demand Asian destinations. Beginning on April 26th, 2023, this new route will offer passengers the convenience of a layover in Taipei before continuing on to their final destination.
STARLUX Airlines' entrance to the US market is highlighted by a unique partnership with the NBA's Los Angeles Clippers with the goal of introducing the Clippers' vast fan base to STARLUX's top-notch service as well as boosting Taiwan's reputation as a global brand.
Fly with Clippers-Themed Amenities from TPE-LAX starting June 1
Get ready to fly high with STARLUX Airlines and the LA Clippers! Flights departing from Taipei to Los Angeles will feature exclusive Clippers themed amenities, showcasing iconic team symbols, basketball court designs, official colors, and other elements throughout the entire packaging lineup. Immerse yourself in the excitement of basketball culture on your journey.
Images for reference only. Basketball and team jerseys not included with in-flight amenities.
Exclusive co-branded board passes feature a basketball background theme.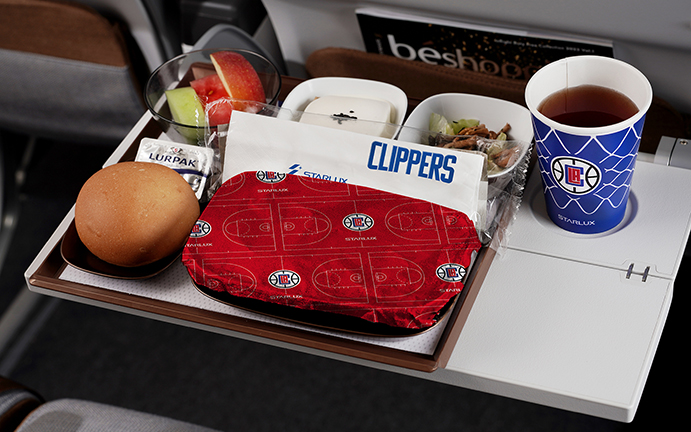 Clippers-themed amenities put you in the right mood for your visit to LA. 
Complimentary luggage name tags and stickers for you to show your Clippers' spirit! 
Fly in Style: Setting a New Standard for Luxury Air Travel
STARLUX Airlines takes flight to La La Land, offering a total of 306 seats across four cabins. Initially launching with five flights per week, the airline will expand to daily flights in June, providing passengers with convenient and comfortable long-haul travel services.
Enjoy deep relaxation with NASA Zero G technology.
Immerse yourself in an exceptional experience with a 4K high-resolution personal screen.
Revolutionary electronically dimmable windows block out up to 99.99% of sunlight.
|STARfromUS|
LAClippers x STARLUX Airlines
Starting from March 2023, the collaboration between the two brands allows STARLUX to be seen around the central high-altitude events, scoreboards, and KISS CAM screens at the Los Angeles Clippers' home games. STARLUX logo will also be displayed on the scoreboard at the court-side and in front of each seat level, creating an exciting atmosphere for basketball fans.
STARLUX and the LA Clippers share a common spirit of fearlessness and progress. We are thrilled to work together to achieve remarkable feats through our shared values and professional expertise.
Taipei (TPE)to

Los Angeles (LAX)

2023/12/12 - 2023/12/12

From

TWD33,078*

Seen: 8 hrs ago

Taipei (TPE)to

Los Angeles (LAX)

2024/03/08 - 2024/03/08

From

TWD33,112*

Seen: 17 hrs ago

Taipei (TPE)to

Los Angeles (LAX)

2024/04/14 - 2024/04/14

From

TWD33,112*

Seen: 1 day ago

Singapore (SIN)to

Los Angeles (LAX)

2024/03/18 - 2024/03/29

From

SGD1,316*

Seen: 9 hrs ago

Singapore (SIN)to

Los Angeles (LAX)

2024/03/01 - 2024/03/12

From

SGD1,317*

Seen: 1 minutes ago

Singapore (SIN)to

Los Angeles (LAX)

2024/02/09 - 2024/02/24

From

SGD1,358*

Seen: 1 day ago

Cebu (CEB)to

Los Angeles (LAX)

2024/04/23 - 2024/04/23

From

USD851*

Seen: 35 minutes ago

Cebu (CEB)to

Los Angeles (LAX)

2024/04/04 - 2024/04/25

From

USD878*

Seen: 1 hour ago

Cebu (CEB)to

Los Angeles (LAX)

2024/04/15 - 2024/10/07

From

USD907*

Seen: 1 day ago

Kuala Lumpur (KUL)to

Los Angeles (LAX)

2024/02/02 - 2024/02/09

From

MYR4,854*

Seen: 1 day ago

Kuala Lumpur (KUL)to

Los Angeles (LAX)

2024/03/01 - 2024/03/23

From

MYR4,922*

Seen: 1 day ago

Kuala Lumpur (KUL)to

Los Angeles (LAX)

2023/12/21 - 2023/12/31

From

MYR5,635*

Seen: 1 day ago

Manila (MNL)to

Los Angeles (LAX)

2024/01/29 - 2024/01/29

From

USD852*

Seen: 1 day ago

Manila (MNL)to

Los Angeles (LAX)

2023/12/20 - 2024/01/20

From

USD1,024*

Seen: 1 day ago

Manila (MNL)to

Los Angeles (LAX)

2023/12/06 - 2024/01/06

From

USD1,132*

Seen: 1 day ago

Clark (CRK)to

Los Angeles (LAX)

2024/05/15 - 2024/05/15

From

USD852*

Seen: 1 day ago

Clark (CRK)to

Los Angeles (LAX)

2024/05/02 - 2024/05/15

From

USD874*

Seen: 1 day ago

Clark (CRK)to

Los Angeles (LAX)

2024/03/08 - 2024/03/23

From

USD951*

Seen: 16 hrs ago

Macau (MFM)to

Los Angeles (LAX)

2024/03/13 - 2024/03/13

From

MOP7,408*

Seen: 3 hrs ago

Macau (MFM)to

Los Angeles (LAX)

2023/12/08 - 2024/03/13

From

MOP7,976*

Seen: 3 hrs ago